The Magical Wizarding World of Harry Potter at Universal Orlando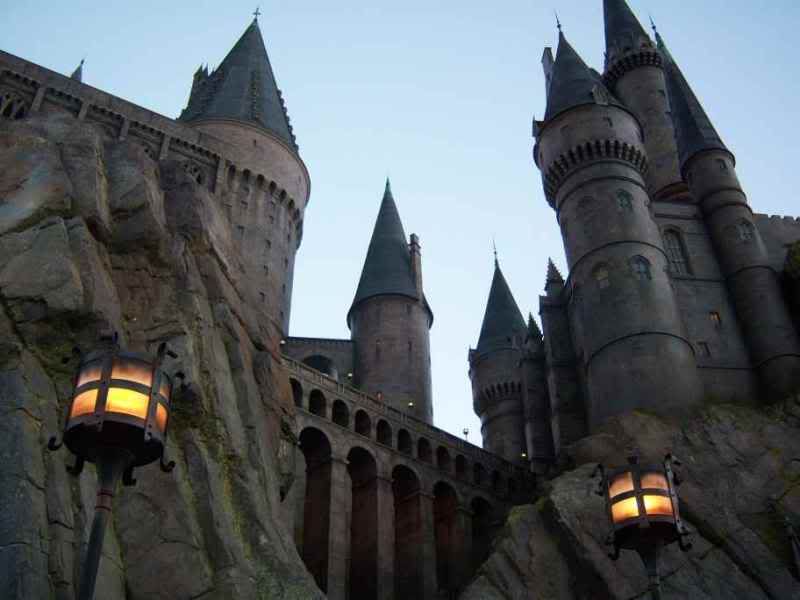 In June, the Wizarding World of Harry Potter opened in Universal Orlando's Island of Adventure theme park, and was a smashing success! I was fortunate enough to see the land soon after it opened, although that also meant that I was also exposed to the massive lines that went along with the hottest opening in Orlando in years. Even if you aren't a Harry Potter fan, there is magic to be found in this amazing land, where attention to detail is so perfect that you will easily immerse yourself into a true world of mystery and fun.
The land itself is small, which is another reason why you will encounter lines even getting into the land for quite a while. Since attention to detail was key, the shops and Hogsmeade village are the size they actually would be, meaning not conducive to massive crowds. Still, the charm is well worth the wait. If you plan on going soon, I highly recommend staying on property at Universal Orlando. There are three Universal hotels, and being a guest at one not only means you use your room key to skip lines and most attractions, but it also means that during the Harry Potter boom you get early entry to the Wizarding World. That early entry can be key to skipping hours in line!
The shops themselves are as much of an attraction as the rides. Honeydukes is the candy store, and where you would be able to find Pygmy Puffs if they had any left (they are out for the next several months). I was able to find a cute "Peacefully Pet the Puffs" t-shirt there, and they have chocolate frogs!
At the Owlery, you can post mail with special stamps. Olivanders is where you'll find the longest line…there you can experience the Wand selection ceremony, where a Wand "chooses" you. If you want to skip that part, there is a cart outside Hogwart's Castle selling Wands. Dervish & Banges will also have a line after the first 30 minutes of the day. There you can find that weird chomping book (in a cage of course), and there is also a Wand selection, and a lot of other souvenirs, including robes.
Don't forget to check out the bathroom, where you just might hear Moaning Myrtle…assuming that the hand dryers aren't going off constantly. You can also have a bit to eat at The Three Broomsticks. Whatever you do, don't leave without trying a Butterbeer (the frozen was my favorite). Butterbeer is sort of a mix between cream soda and butterscotch, and has a line that wraps around the land. Usually, though, they also sell it by the cart by Forbidden Journey. Another specialty is Pumpkin Juice, which sounds gross but is quite delicious!
Now, for the rides. Two of them, Dragon Challenge (formerly Dueling Dragons) and Flight of the Hippogriff (formerly Lost Unicorn) were taken from the Lost Continent section of the park. The brand new ride is Forbidden Journey, and it is housed in Hogwart's castle. The Castle is the ride, and the line itself is an experience, so even those stuck in line for a long time won't quite be bored. I won't give too much away, but keep your eyes peeled for the Sorting Hat! The ride itself is amazing…for those of you that have been on Spiderman, it is even BETTER. Now, for those of you that are prone to motion sickness, be very afraid of this ride…dose up on Dramamine and ride it at least once though. It is an amazing mixture of 3-D, roller coaster, and real life figures, and is truly worth the hurl factor.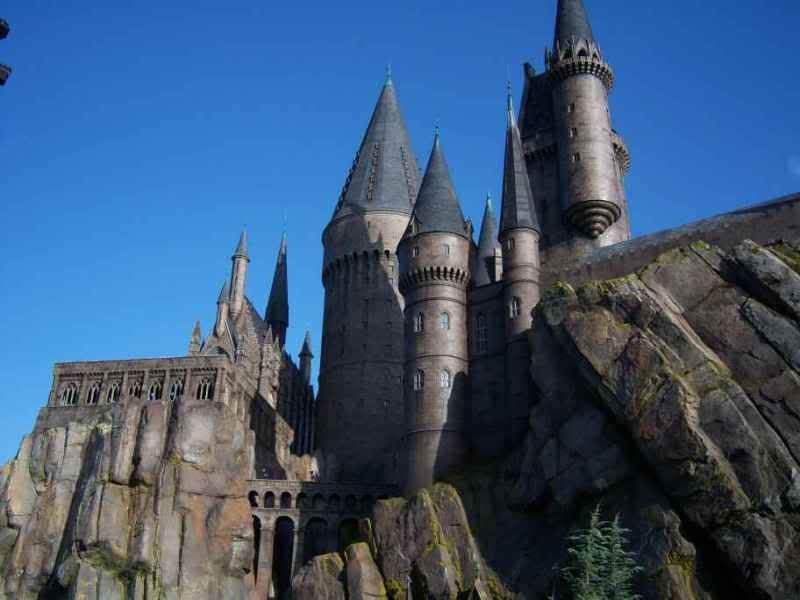 There is also fun entertainment to be had around the land…you'll see students from the Tri Wizard tournament performing, and you might even see the Frog Choir! What you won't see is Harry, Hermione or Ron…not allowed, per J.K. Rowlings! She wants no fake Harries posing for photos.
My major tip…go early, or go late. Do not think if you stroll in at 10 AM you are getting into the land anytime in the following couple of hours. See this line? It gets worse.
Here is a photo of the line waiting to get into the Land if you are an onsite guest:
Here is what Hogsmeade looks like after that onsite guest line:
Here is what it will look like later!